Epoxy Resin Static Mixing Vacuum Pressure Casting Equipment
Epoxy Resin Static Mixing Vacuum Pressure Casting Equipment
LG VACUUM

JIANGSU,CHINA

30DAYS

100SETS/YEAR
Epoxy Resin Static Mixing Vacuum Pressure Casting Equipment using static mixing device, mixing process is precisely adjustable, shorten the mixing time.
In epoxy resin static mixing vacuum pressure casting equipment system, dynamic mixing tank is replaced by static mixing device. Mixing process is adjustable. Mixing time has been shorten.So the mixing material is fresh, has excellent flow proterties. Imporve the wettability to the coil, to the greasest degree of assurance the active of hybrid materials. Solve the problem of gel aging caused by a long time of dynamic mixing agitation.
Epoxy resin static mixing vacuum pressure casting equipment can mix materials at any time according to production, shorten the production cycle and improve efficiency. You don't need to worry about the shortage caused by mold material leakage. Put an end to the dynamic mixing's chronic of excess stock. The material savings are very considerable.
Equipment technical indicators and parameters

Casting tank size

Φ2400*3000mm/Φ2500*3500mm/Φ3000*3500mm/Φ3200*3500mm

Vacuum system main pumping pumping speed

300 L∕S

Operating temperature

70~85℃

Limit vacuum (cold state,no-load)

≤30Pa

Leakage rate

≤100Pa.L∕S

Work vacuum degree

100~300Pa(adjustable)

Working pressure

Ordinary pressure

Mixing System: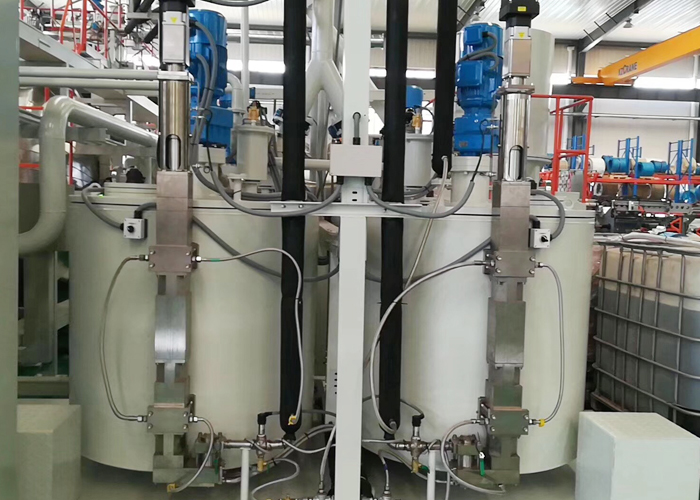 Vacuum Unit: