Single Platform Fiber Laser Metal Cutting Machine
Single Platform Fiber Laser Metal Cutting Machine
LG VACUUM

JIANGSU CHINA

30 DAYS

10000 SETS/ YEAR
Single Platform Fiber Laser Metal Cutting Machine-3015 adopts imported high precision ball screw transmission.
Single Platform Fiber Laser Metal Cutting Machine-3015: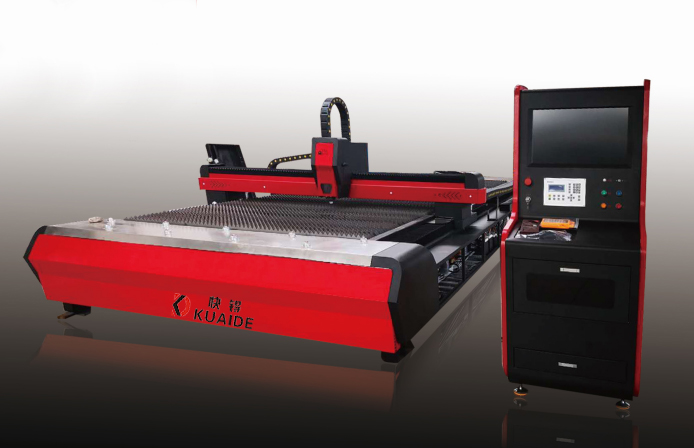 Product overview:
Imported high precision ball screw drive, high precision linear guide guide imported servo motor drive, equipped with imported high rigid precision reducer machine is equipped with automatic lubricating device, laser cutting area is equipped with the dust exhaust device modular structure, high performance and free maintenance professional cutting software, the operation is simple, convenient and flexible cutting edge quality is good, smooth and beautiful appearance.
Technical Parameters:
| | |
| --- | --- |
| Machine Model | KD-3015 |
| Laser Power | 1000W/ 1500W/ 2000W(Optional) |
| Working Breadth | 3000mm*1500mm |
| Total Installed Power Consumption | 9KW |
| Transmission Mode | Gantry Driver |
| Rated Voltage and Frequency | 380V 50HZ(60HZ) |
| Dimension | 4800*2320*1620mm |
Application:
Specially used for cutting 0.5-20mm carbon steel,0.5-10mm stainless steel,0.5-6mm brass,0.5-10mm aluminum ,0.5-4mm copper , as well as galvanized steel , electrolytic steel anf silicon steelect (thicknesses are related to the kinds of materials and fiber source power).
Main Features:
1. Advanced processing mode, high efficiency:
The laser belongs to non-contact processing, which does not produce mechanical extrusion and stress. Marking, cutting without cutting tools, no tool wear and replacement, disassembly problems, so the processing speed is fast and efficient.
2. Strong processing flexibility:
No need for mold and auxiliary consumables preparation, no matter it is single product, multiple varieties and less batch products or different graphics and text processing requirements, can be processed immediately.
3. Advanced processing technology:
After laser focusing, the spot diameter is small, the processing is fine, the thermal impact zone on the processing materials is small, the workpiece basically does not deformation.You can do things that you wouldn't normally do.
4. Wide range of processing materials:
It can process many kinds of metal and nonmetal materials with high hardness, brittleness and melting point.Metals such as: gold, silver, copper, iron, aluminum and other non-ferrous metals, rare metals, etc.
5. Low processing cost:
Laser processing does not need to add additional equipment and consumables, as long as the laser works normally, can be a long time continuous processing.Processing speed, low cost, can be controlled by the computer to achieve automatic production, simple operation and easy to change.