Vacuum Oil Filling Equipment Of Amorphous Alloy Transformer
Vacuum Oil Filling Equipment Of Amorphous Alloy Transformer
LG VACUUM

JIANGSU,CHINA

30DAYS

100SETS/YEAR
Vacuum Oil Filling Equipment Of Amorphous Alloy Transformer can automatically run oil filling system, oil fill the product quantitatively and other advanced technology.
Main Features:
1. Oil filling devices have drying function. The thermal oil heating system arrange a set of heat exchanger in parallel. When the product technology requires cooling, tank temperature can be reduced by cooling heat conduction oil temperature, make the product temperature dropped to 70°C, in order to reduce the resurgence phenomenon.
2. Appropriate number of oiling branch line through the flange into the vacuum tank, each branch by appropriate piping and product links, to facilitate qualified insulating oil into the product.
All oiling piping, fittings made of 304 stainless steel, the total amount of fuel in the main pipe is controlled automatically.
3. All branch configure the meter for preset amount of oiling. When it reaches the preset fuel injection quantity, the oil valve closes. Meanwhile each branch configure a set of glass rotor flow meter, to control fuel injection, so oiling speed is controllable.
4. High-end control system uses PLC as the master unit, industrial machine monitoring, enabling the process of heating, cooling, vacuum and oiling of automatic control. Over-temperature alarm, automatic break water and air protection and alarm. Can monitor,store,print current and historical parameters(time, temperature, vacuum, fuel injection).
PLC: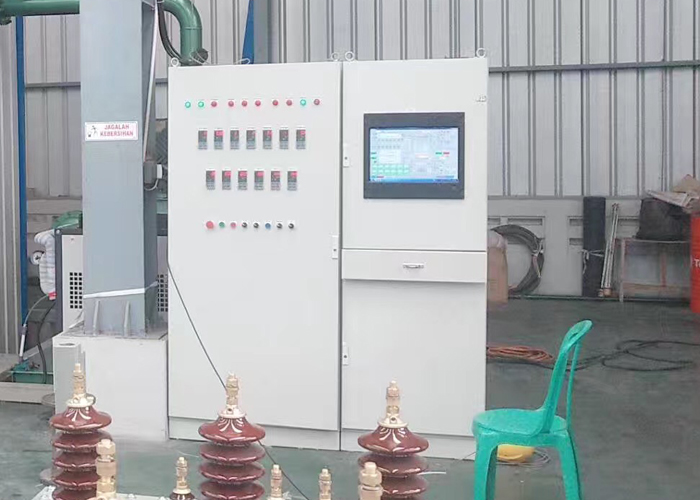 Oil storage tank: