Vacuum Pressure Casting Equipment For Transformer
Vacuum Pressure Casting Equipment For Transformer
LG VACUUM

JIANGSU,CHINA

30DAYS

100SETS/YEAR
In order to ensure the reliability of the complete set of equipment, from the beginning of design we strengthen quality consciousness, the main choice of devices are well-known company's original products.
Jiangsu Longgong Vacuum Technology Co.,Ltd. provide an annual output of 1 million KVA dry-type transformer epoxy resin vacuum casting equipment according to our company's vacuum casting equipment manufacturing experience and design specifications accumulated over the years,combined with the design concept of international peers.
This equipment is suitable for two-component epoxy resin formula with filler.
MAIN SPECIFICATION(Customizable):
1. The effective size of the vacuum pressure casting tank is: φ2400×3000mm ( horizontal type );
2. The effective volume of the final mixing tank is: 300L;
3. The maximum mold size applicable to the equipment is: φ1500×1650㎜ ( diameter x height ).
4. After pouring,magnitude of partial discharge of the product is equal or less than 10PC.
Annual production capacity:1 million KVA, annual product 10 KVA to 35 KVA casting resin type transformer.The monthly production is about 200.
Equipment composition

NO.

NAME

Quantity(set)

1

Resin mixing degassing tank and material feeding system


1

2

Curing agent mixing degassing tank and material feeding system

1

3

Electronic scale system

2

4

Final mixing tank

1

5

Vacuum casting tank system

1

6

Heating system

4

7

Vacuum system

2

8

Pneumatic pipeline system

1

9

Controlling system

1

10

Package release trough and material feeding system

1

11

1
Mixing Tank: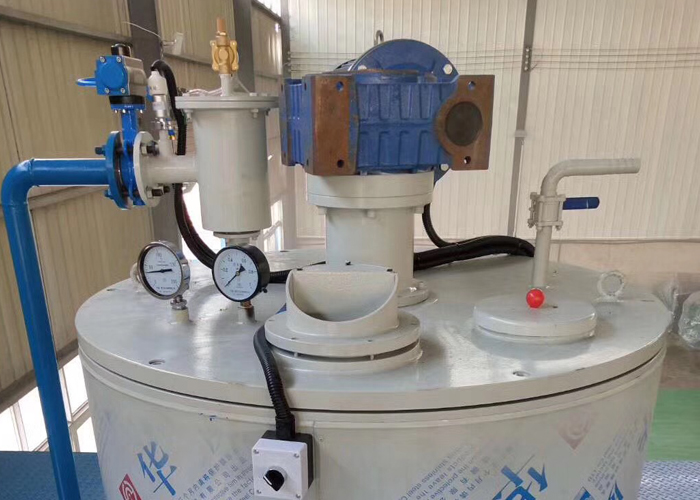 Control Cabinet: